Original post by Canada for Glowing Hearts https://travel.destinationcanada.com/things-to-do/canada-by-car-three-road-trips-through-ontario-and-quebec
Get behind the wheel with these three road trips in Québec and Ontario. Prepare to see the most beautiful roads in Canada, dazzling panoramas, a land rich in flavors and culture and unique colours!
Classic road trip: Montréal to Toronto through open countryside
A classic drive worth revisiting, with a mix of big cities and rural areas.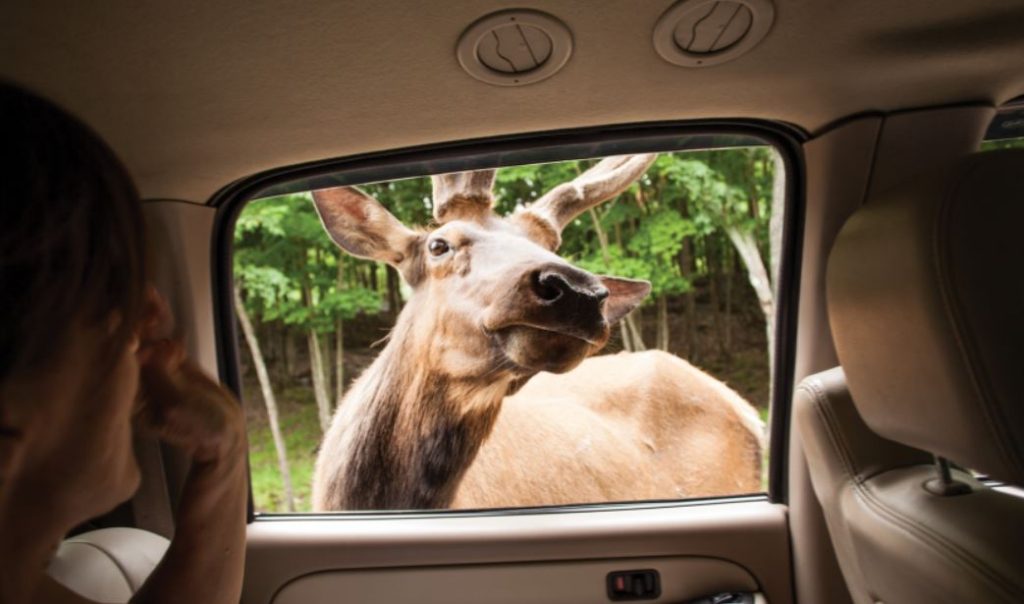 Parc Oméga, Montebello, Québec
Distance: 903 km
Timing: 7 to 10 days
Suggested stops: Montréal – Mont-Tremblant – Montebello – Ottawa–Gatineau – Algonquin Provincial Park – Toronto
Montréal
Montréal is a city of cultures and festivals. Come experience the vibe of neighbourhoods like the Plateau, the Mile End and the Quartier Latin. To enjoy nature in the city, start at Mount Royal Park, then head to the Jardin botanique. Visit Old Montréal on foot and explore the archeological vestiges of Pointe-à-Callière. Have fun learning about science at the Montréal Science Centre. In good weather or bad, visit Montréal's Underground City, a network of more than 30 kilometres of passageways leading to museums, boutiques, performance venues and restaurants. Try the restaurants at Time Out Market!
Mont-Tremblant
Just north of Montréal, take time out at Mont-Tremblant for a first-class mountain experience. Starting from Tremblant's Pedestrian Village, which is lined with boutiques and restaurants (we recommend the fondue at La Savoie), step aboard the panoramic gondola for a stunning view of the Laurentians. If you have energy left to burn, rent an electric bike at D-Tour or go for a hike at Domaine Saint-Bernard. Afterwards, enjoy the fine dining at sEb L'artisan culinaire.
Montebello
Follow the road to the Outaouais region for a stay at the luxurious Fairmont Le Château Montebello. Enjoy a taste of the hotel's fabulous cuisine, with its focus on local products, and relax at the spa. Roam the nearby Parc Omega in your car to observe animals (deer, bears, wolves, etc.) in their natural habitats. If you visit at night, be sure to catch the Omega by Night sound and light show.
Ottawa and Gatineau
Take the Chemins d'eau route to Gatineau and marvel at our past at the Canadian Museum of History. The Grand Hall alone is worth the trip! In Ottawa, Parliament Hill has free guided tours. Don't miss the changing of the guard or the Peace Tower carillon concerts. Foodies will appreciate a meal at Bekta or Play Food & Wine at the renowned Byward Market. Visiting in May? Prepare to be dazzled by millions of tulips during the Canadian Tulip Festival.
Algonquin Provincial Park
Make your way to Algonquin Provincial Park, the ideal place to admire the fall colours, all along the Highway 60 Corridor. Choose your outdoor activity: hiking, cycling, fishing or canoeing. After your nature break, you can admire the works housed in the Algonquin Art Center and dive into history at the Algonquin Logging Museum.
Toronto
Wrap up your road trip in the multicultural and cosmopolitan city of Toronto, with oh-so-hip neighbourhoods like the Westside, The Beaches and the Historic Distillery District. While in the Distillery District, treat yourself at Cluny Bistro & Boulangerie. The Art Gallery of Ontario—one of the biggest in North America—and the renowned Royal Ontario Museum are sure to delight art lovers. The city's icon, the CN Tower, has unforgettable attractions: a glass floor 342 metres in the air and 360 restaurant, where the breathtaking panoramic view is rivalled only by the creative cuisine of chef John Morris. From the bustling city centre, head to the serene Toronto Islands and enjoy a Toronto Island Walking Tour.
Scenic road trip: From Toronto and Niagara to Quebec City and Charlevoix
From Toronto to Québec City, with Niagara and Charlevoix as options, a road trip full of discoveries, from rustic to urban to epicurean!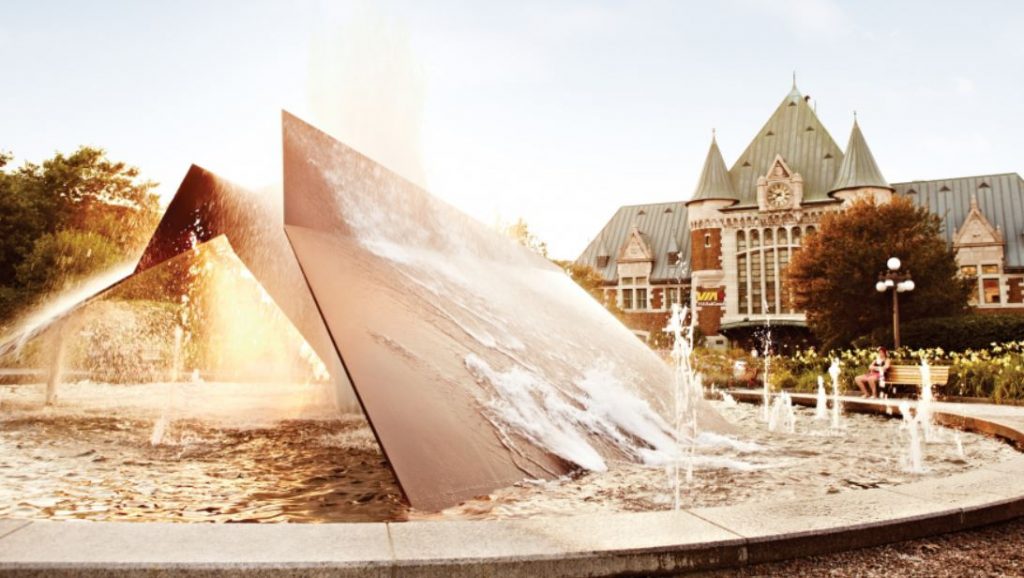 Gare du Palais, Québec, Québec
Distance: Between 915 km and 1,464 km
Timing: 7 to 10 days
Suggested stops: Toronto – Niagara – the north shore of Lake Ontario – Kingston – Parks of the St. Lawrence – Montréal – Québec City – Charlevoix
Toronto
In Toronto, thrill-seekers will want to try the Edge Walk, the highest hands-free walk in the world. Get a sense of the city's cultural mix in Kensington Market, a lively cluster of more than 240 businesses (explore the market with a walking tour). Celebrate with a fantastic meal—and view—at Hotel X's Falcon SkyBar. Be sure to visit Casa Loma, Toronto's castle of a thousand wonders.
Recommended add-on: Niagara
Take a round trip to Niagara to marvel at the world-famous falls and the Niagara-on-the-Lake vineyards.
The north shore of Lake Ontario
Drive along Lake Ontario's shoreline to Presqu'ile Provincial Park and stop to see the freshwater lighthouse. Bask in the glorious sandy beaches and hiking trails at Sandbanks Provincial Park. Then it's off to Prince Edward County to roam the vineyards and cider works, farms, markets and restaurants along the Flavour Trail. Stop by The County Cider Company or Crimson Cider Co. and treat yourself to oysters at Sand and Pearl.
Take in the beauty of the 1000 Islands with a boat tour, then dive into history in Kingston at Bellevue House National Historic Site and Fort Henry.
From Kingston to Montréal
Halfway between Kingston and Montréal, explore the Parks of the St. Lawrence. Take the Long Sault Parkway, a natural paradise with eleven islands, and relax at the dazzling Mille Roches Beach. Enjoy the bird sanctuary at Upper Canada Village.
When you reach Montréal, stock up on provisions in Little Italy or at Jean Talon Market.
From Montréal to Quebéc City
Between Montréal and Quebec City, detour onto the King's Road for the rich history and the sweeping views of the St. Lawrence River. Two highly recommended epicurean stops: Magasin général Paré and L'esprit de clocher microbrewery.
Visit magnificent Quebec City, a UNESCO World Heritage Site and home to the famous Fairmont Le Château Frontenac. Take a guided walking tour of Old Quebec, including Quartier Petit Champlain and Place Royale, the cradle of French North America. Admire the St. Lawrence River as you stroll along the Promenade des Gouverneurs on your way to the Plains of Abraham, a vast park that stretches all the way to Musée national des beaux-arts du Québec. You'll definitely want to see the fabulous Inuit Art collection at this fine arts museum! Just a few minutes out of town, you can experience Indigenous culture at Onhoüa Chetek8e, a traditional Huron site.
Take the New France Route to Canyon Saint-Anne, which boasts impressive waterfalls and suspension bridges. Once you're there, challenge the heights with the via ferrata and the Air Canyon. Take a seat and fly through the air from 90 metres above!
Recommended add-on: Charlevoix
Before you head back west, drive on to the Charlevoix region. Follow the Flavour Trail, the St. Lawrence Route and the Mountain Road. Stay at Fairmont le Manoir Richelieu and meet the artisans of La Papeterie Saint-Gilles. Wrap up your trip in the great outdoors at Parc national des Hautes-Gorges-de-la-Rivière-Malbaie.
Road trip off the beaten path: Ottawa, Northeastern Ontario, Abitibi-Témiscamingue and the lakes route in Outaouais
A loop joining Ottawa and Gatineau via the lakes route, with vast wilderness and First Nations heritage sites.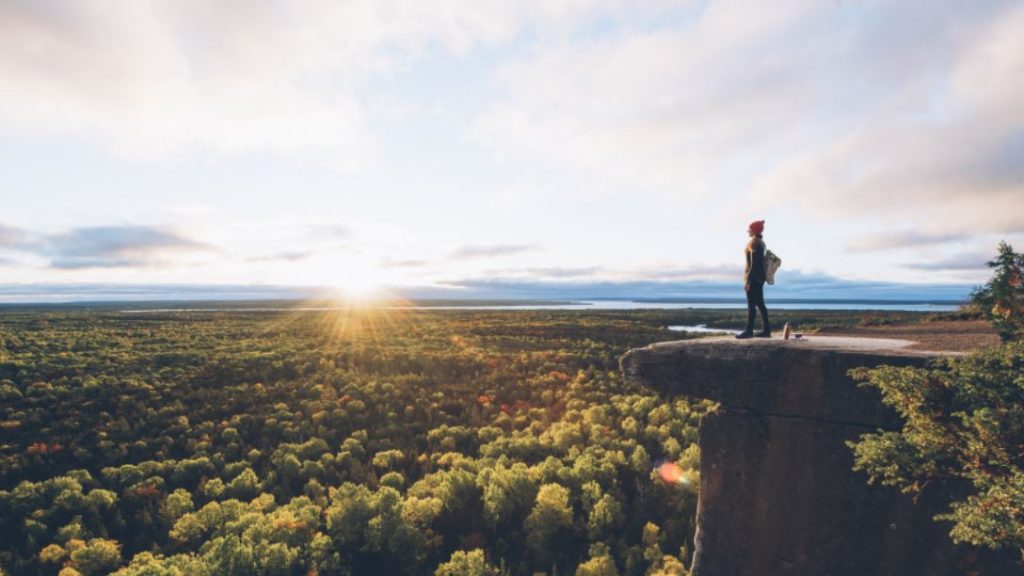 Cup and Saucer Trail, Manitoulin Island, Ontario – credit: Max Coquard
Distance: 2,113 km
Timing: 9 to 11 days
Suggested stops: Ottawa – Kawartha Lakes – Georgian Bay – Manitoulin Island – Greater Sudbury – North Bay – Ville-Marie – Rouyn-Noranda – Val-d'Or – Gatineau
Ottawa
As Canada's capital city, Ottawa offers travellers a variety of experiences. Get your heart pounding with a rafting trip just minutes from downtown. Take a stroll down Wellington West, the perfect street for trendy shops and sublime gelato from Stella Luna Gelato Café. Take your pick of museums, including the Canadian War Museum and the Canadian Aviation and Space Museum.
Kawartha Lakes
Just west of Ottawa, you can explore the Kawartha Lakes region and its crystalline waters. Choose from four scenic drives or a fishing expedition. Cycling and hiking trails crisscross the entire region. Travel back in time at Kawartha Settlers' Village, then take a gourmet break at Kawartha Country Wines.
Georgian Bay
Drive along the Georgian Bay coastline to French River Provincial Park, where you can paddle the same routes once used by First Nations. At Killarney Provincial Park, treat yourself to the experience of sleeping in a yurt. For incredible views, climb the "fissure" trail and walk along the while cliffs. Love Fish & Chips? You'll enjoy the fare at the hugely popular Herbert Fisheries.
Recommended add-on: Manitoulin Island
Immerse yourself in the spectacular wilderness of Manitoulin Island, the largest freshwater island in the world and an ancestral territory of the Anishinaabe First Nation. Learn about their culture at the Ojibwe Cultural Foundation. Stay in a log cabin, join an expert on a salmon fishing expedition, and grab a bite to eat in Maja's garden.
Greater Sudbury
Enjoy an urban stopover in Greater Sudbury. Visit Science North and indulge in the gourmet creations at The Patio. When you venture downtown, don't miss the trails at Junction Creek Waterway Park.
North Bay
Take a nature break in North Bay at Duchesnay Falls and relax on the beautiful beaches of Lake Nipissing. Want to get some exercise? Explore the lake on a kayak with Shockwaves.
Abitibi-Témiscamingue
In Québec's Abitibi-Témiscamingue region, roam the forest at Parc national d'Opémican, where you can rent bicycles, canoes, kayaks or paddleboards. Further to the north, visit Obadjiwan–Fort Témiscamingue National Historic Site near Ville-Marie, one of the prettiest villages in Québec. Gaze in wonder at the majestic Lake Témiscamingue from Parc du Centenaire.
In Rouyn-Noranda, take an architectural heritage tours or a guided tour of Dumulon General Store. See the giant's kettles and pillow lava in Parc national d'Aiguebelle, a gem of a park and one of the highlights of the region.
Just to the east, Val-d'Or awaits with its fabulous Cité de l'Or. Go deep into the heart of a gold mining operation and visit the mining town. Experience Indigenous Anicinabe culture at Kinawit. Stop by Hotel Forestel to savour local fare prepared by acclaimed chef Yves Moreau.
Return trip to Gatineau and Ottawa
Drive south to Réserve faunique de la Vérendrye. With its 4,000+ lakes, it's a fishing paradise, so rent a boat! Enjoy even more nature in Gatineau Park in the Outaouais region. For magnificent views, hike the King Mountain trail. Explore Lusk Cave and be on the lookout for sandy beaches. Not far from the park, pamper yourself at Nordik Spa-Nature.